See the perfect shot. Hear the perfect shot. Practice the perfect shot – and shooting percentages increase, guaranteed. The Noah™ Select Shooting System aligns simply on the sideline and provides objective feedback for every shot taken. Players self-correct, practice the right shot and scoring percentages improve.

See the perfect shot: Noah™ Vision tracks and records each shot taken. Players, for the first time ever, can see their shot from release point to basket using Noah™ Video and Arc Plot features.

Hear the perfect shot: Noah™ Voice announces the angle of the arc with each shot taken. Once Noah™ Voice is turned on, the angle of each shot is announced. If the player's optimal scoring arc is 44 degrees, and the shot was announced at 41 degrees, the player knows the shot was too flat.

Practice the perfect shot: When you know better, you do better. Once a player understands what the perfect shot looks like and sounds like, they begin to build muscle memory. Repetition and reinforcement increase shot consistency and shooting percentages increase.

Build Muscle Memory: Instant Noah Voice Feedback helps players rapidly build strong muscle memory. Players learn the feel of shooting the ball the correct distance and arc with every shot.

Track Player Improvements: Noah provides coaches with reports on every player. Know instantly who is improving and who needs more work. Identify inconsistent shooters and work to perfect their shot.

Miami Heat's Dwyane Wade uses Noah!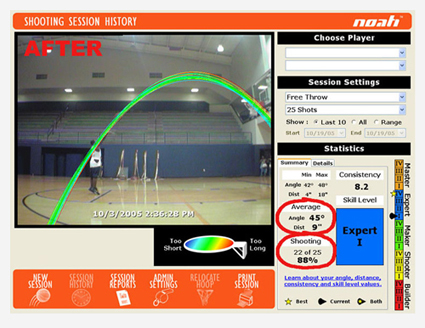 Noah Skill Level Scale: Noah Select scores the shooter after each session then rates the shooter from Level Builder I through Level Master IV.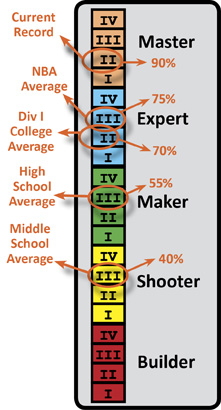 NOAH SELECT SCORING ZONES
SWISH: When the center of the ball passes through the SWISH zone, it will score touching nothing but net.
BRAD: (Back of the Rim and Down) When the center of the ball passes through the BRAD zone, it goes deep in the basket and hits the back of the rim and then scores. All great shooters frequently make BRAD shots.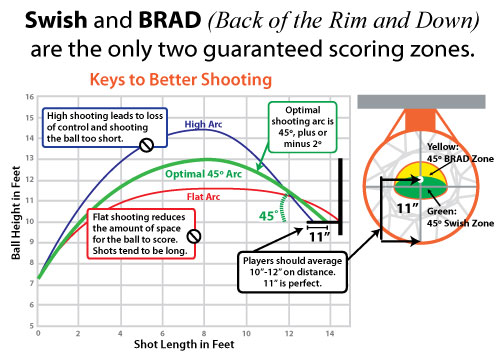 Good Shooters Find Greatness: Only with Noah is the shot arc visible, articulated, recorded and compared. The shooter can now see the arc, hear the arc and self-correct shot-by-shot.